Timbers & Finishes
Timber choice is a very important part of our design process. We stock a variety of beautiful slabs and unique timbers. We source from local timber mills and sustainably sourced suppliers. When built with quality joinery & construction methods, solid timber is an extremely hard wearing and quality material for furniture.
You may think that an item of bespoke timber furniture is just a piece of wood, but there are many different species of timber out there, and each has unique characteristics and qualities. As a hygroscopic material all solid timbers will constantly equate to its surrounding moisture conditions throughout the seasons and take & release moisture. The cost of the wood used in furniture varies, mostly driven by availability but also by beauty and fit for purpose. Most importantly is to keep in mind is that being a natural organic product, timber will keep "breathing" moisture in and out, depending on conditions and its surroundings, therefore allow for timber's movement is crucial.
We are happy to discuss timber choices with you and can post our timber samples and examples of finishes to help you decide or colour match.
The most used Timber Species are: Spotted Gum, Blackbutt, Tasmanian Oak, Tasmanian Blackwood, Victorian Ash, American White Oak & Rosewood. Other timbers can be sourced depending on availability.
Finishes are usually Clear Lacquer, or Oil stain for a colour application or outdoor use.
---
Australian Timbers

Victorian Ash
(Eucalyptus Regnans) Victorian Ash takes its name from the fact that it grows in the alpine areas of Victoria and Tasmania.Victorian ash timber usually has a straight grain but may also produce fiddleback markings and have visible gum veins. It has a course texture. The heartwood ranges from pale pink to yellowish brown. The heartwood is often indistinguishable in colour from the sapwood.

Tasmanian Blackwood
(Acacia Melanoxylon)
Blackwood is a medium-sized Australian hardwood that grows from eastern South Australia to southern QLD coastal areas. In the wetter areas of Tasmania it is grown in large volumes.It is definitely an 'appearance timber', with a heartwood that is a rich golden brown. This is sometimes complimented by reddish streaks or a narrow band of darker colour, indicative of the growth rings. The sapwood is much paler in appearance. Blackwood has a medium and even texture. Its grain can either be straight or have a wavy fiddleback pattern.

Spotted Gum
(Corymbia Maculata, Corymbia Citrodora, Eucalyptus Henryi)
Spotted gum is one of Australia's premium native hardwoods with a striking appearance and a high degree of natural durability and strength. Spotted gum is the common name for four species that grow along the east coast of Australia, from northeast Victoria to the northern tablelands of Queensland, with some occurrence in western areas of southern Queensland. The heartwood ranges from light brown through to dark red-brown hues. Sapwood is usually white to light brown in colour. The presence of a wavy grain can produce an attractive fiddle-back figure.

Northern Silky Oak
(Cardwellia Sublimis)
Heartwood is a light to medium reddish brown with grey to light brown rays. Like other woods that exhibit the strongest figure in quartersawn pieces, (such as Sycamore), Silky Oak has the most pronounced figure and displays the largest flecks when perfectly quartersawn; this is due to the wood's large rays, whose  layout can be seen the clearest when looking at the endgrain.

Western Australian Jarrah
(Eucalyptus Marginata)
Jarrah is a unique Australian hardwood renowned for its versatility. Jarrah trees grow on the iron and aluminium rich plains of south-western corner of Western Australia, from the ranges east of Perth down to Albany. Jarrah timbers reflect the hues of the Western Australian landscape. The heartwood varies in colour from rich reds to browns, while sapwood ranges from a pale yellow to orange. The texture of the timber is moderately coarse and even-textured grain, although some interlocked, wavy grain may feature, creating interesting fiddle-back figure.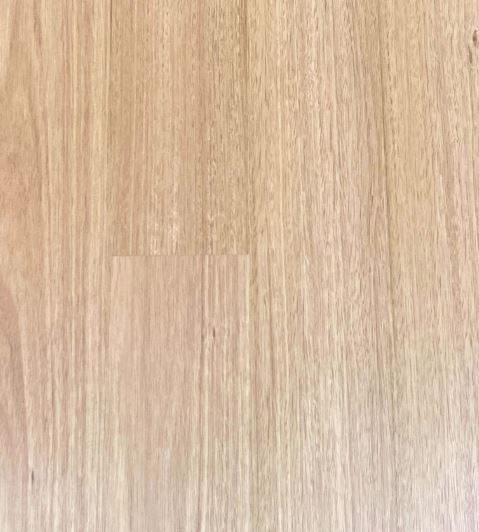 Tasmanian Oak
(Eucalyptus Regnans)                                              Tasmanian oak is a premium Australian hardwood timber encompassing three species that grow in the mountainous areas of Tasmania, Victoria and south east NSW. It is a versatile timber perfect for both construction and interior applications. The hardwood timber is light-coloured, ranging from straw to light reddish brown

Blackbutt
Australian Blackbutt timber is predominantly grown on the north coast of New South Wales and the southern coast of Queensland. … It is one of seven hardwood timber species approved by the Building Commission in Victoria for home construction and interior application in bushfire areas.

Pacific Jarrah
(Manilkara Bidentata)
Pacific Jarrah is a distinct timber with similar properties to Western Australian Jarrah. It has a pale sapwood and dark red-brown heartwood, with medium lustre and fine texture. Pacific Jarrah typically has a lighter colour than Western Australian Jarrah. It is grown sustainably and imported from South America and has a FSC rating.

American Oak
(Quercus Alba)
The sapwood of American Oak, also known as White Oak, is light coloured and the heartwood is light to dark brown. White oak is mostly straight grained with a medium to coarse texture, with longer rays than red oak. White oak therefore has more figure. Also known as Northern White Oak, Southern White Oak.
White Oak is grown in North America and has an FSC Rating

European Beech
(Fagus Sylvatica)
Heartwood pale brown, sapwood creamy and not clearly distinguishable. The heat of kiln drying can change the colour of the heartwood to reddish brown. Texture fine and even. Grain usually straight. The ends of the large rays give a characteristic fleck to the tangential surface. Also known as Beech.
European Beech is sustainabiliy grown in Europe and has an FSC Rating.